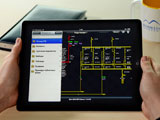 CK-2007 client for iOS – CKiMobile – is released in April, 2013. Now using the iPhone and iPad one can easily assess the developing situation at the controlled object or the state of a power system.
Operational or management personnel can join the analysis of present situations in any place where there is a mobile internet access (WiFi, 3G or GPRS).
The new application will complement the successfully functioning CK-2007 client for Android (CKaMobile) and will allow interested companies such as those in which the CK-2007 is operated mobile access to the data on all the most common tablets and smartphones.
One license allows you to organize CKiMobile connection to one data domain CK-2007. There are three types of licenses – for five, ten, or an unlimited number of simultaneous connections.
Until the end of this year the companies operating CK-2007 will be able to organize one demo connection from Apple mobile devices to CK-2007 servers. The work will require CK-2007 updated to version 7.5.10.
You can download an evaluation version of CKiMobile in the App Store.