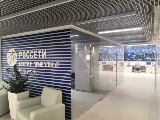 Presidential Plenipotentiary Envoy Igor Shchegolev and Ryazan Region governor Nikolay Lyubimov visited Network Control Center of Rosseti Centre in Ryazan. The center serves an area of 40 000 square km and operates on the basis of a modern domestic information platform CK-11, which provides real-time operational and situational management of more than 27 000 km of 0.4-220 KWh power lines, 6 500 6-10 KWh Substations and 153 35-110 KWh Substations, on which the electricity supply of more than 1.1 million people depends.
The implementation work of the operational and informational software complex began in 2019. Ryazanenergo technicians, who trained on the basis of the Training Center of JSC "Monitor Electric", created an information model of the entire electric network on their own, including 6-10 kV distribution networks.
The Network Management Center is currently successfully running a modern version of CK-11. Russian-made operating system is used as system software and DBMS certified at FSTEC, Astra Linux "Smolensk" with PostgreSQL. The implementation of an electronic operational log on the CK-11 platform made it possible to switch fully to electronic document flow concerning operational and technological management.