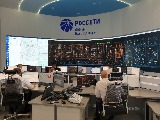 On August 30, 2021, the grand opening of the modern Multifunctional Information Technology Control Center of Rosseti Center branch Belgorodenergo took place. Operational and technological control of electrical grid facilities from an outdated network management center was transferred to the new center.
The main software of the new center is the domestic platform "CK-11," which allows online monitoring and management of the electric grid complex.
As part of the implementation of the CK-11, a digital information model of the Belgorodenergo electric network was created, functions were configured: SCADA, outage management system (OMS), steady state calculation, electronic operational log, requests for equipment repair, work permit and orders log.
CK-11 is used by operational personnel to support decision-making in order to ensure reliable and high-quality power supply to consumers. In the future CK-11 as a platform developed on the basis of open international and Russian standards will serve as a source of reliable information for various analytical and expert systems of the Belgorod region.