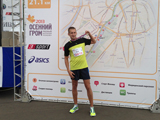 On Sunday, August 4, The Fourth annual Half Marathon 'Autumn Thunder' took place in Moscow as a preliminary to Moscow Marathon 2013. Thousands of professional sportspeople and amateurs participated in 21 and 10 km dashes. Junior runners had to cover 1 km distance.
Ilya Sazonov, one of the staff members of Monitor Electric, JSC, also jumped at an opportunity to participate in the marathon. He came in 471 in the men's dash. He managed to do it in 1 h 46 min 1 sec.

"I'm so happy to be a part of such an amazing sport event. I was surprised to see so many fans, and the drums called forth our energy – their beat made us run faster and faster. There was a moment when the jogging sound of thousands of runners struck my ears. That was awesome!" Ilya Sazonov is sharing his impressions.
Ilya set a good example for sports movement in our company. That's especially important as we are approaching September sports tournaments between Southern energy companies.