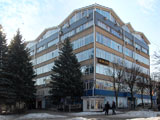 Last week, Smolensk branch of Monitor Electric began full operation in the new office.
The company acquired the premises for the branch in January 2013. During that time the building was refurbished and equipped with new furniture and hardware. On April, 12, the works on IT infrastructure were completed, and the corporate telephone and computer networks started to work.
Congratulations to our colleagues with new home!