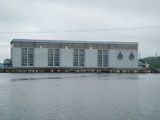 Monitor Electric accomplished testing of the "System of technological data collection and power station mode control" at the power stations of the Kola Peninsula Branch of Territorial Generating Company No. 1, Open Joint-Stock Company (TGC-1, Open JSC). Testing was taking place from the 7th till the 14th of November, 2011.
Basing on the testing results, acceptance board consisting of both TGK-1 and Monitor Electric representatives declared Systems of Verkhne-Tulomskaya HPP-12, Nizhne-Tulomskaya HPP-13, Serebryanskaya HPP-1 (HPP-15), Niva-HPP-3 ready for operational testing.
Systems are based on the OIC CK-2007 unit-level platform with integrated Electronic LogBook "Hedgehog-2". They ensure: autonomous work of power station operational staff when connection with the control center is lost; duty staff logbook journaling; on-line information collection from the supervisory control systems and Computerized Process Control Systems of the facilities; on-line, schedule and report information exchange as well as electronic logbook logs exchange with control center of the Kola Peninsula Branch.