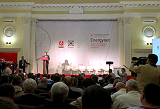 In May 2017, Monitor Electric participated in the 3rd International Power Branch Strategic Session "Energy Industry of the Future. Real Dynamics of Change".
The event took place in Sevastopol (the Republic of Crimea). Among the attendees of the event were representatives of authorities, large, medium-sized and small businesses, top management of state institutions, deputies of the State Duma of the Russian Federation, branch scientific elite, heads of the Ministry of Energy of the Russian Federation and higher education institutions.
Among the key issues on the conference agenda were: positioning of Russia at the world intellectual energy market, achieving a common understanding of the target model which our energy industry is moving to and which would be accepted by the community. The main work of the session participants was aimed at updating the EnergyNet roadmap and selecting new promising projects. Monitor Electric delegates presented and discussed together with the participants of the working group "Critical Technologies" a project "Tool for outage planning and development of 6-35 kV network to achieve the established indicators of power reliability SAIDI, SAIFI."