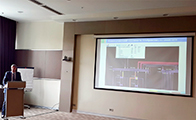 In September 2016 Monitor Electric took part at the annual corporative conference of "Federal Grid Company of Unified Energy System" PJSC devoted to "Results and prospects of IT development and operation at FGC UES".
The event was held at the premises of Sochi Main Electrical Systems Enterprise (Sochi PMES). Among the attendees were the representatives of FGC UES PJSC, SO UPS JSC, Rosseti JSC, manufacturers of software, hardware and communications system.
The interest of conference participants was attracted to the report "CK-11 Information and Technology Platform for Power Grid Control Centers. Implementation Experience, New Features and Prospects" delivered by Sergey Silkov, the head of Monitor Electric Moscow branch. During the ensuing discussions the conference participants gave recommendations for the further development of the software complex and extension of its functionality.