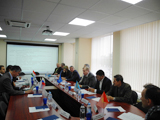 The scheduled meeting of CIS Electric Power Council was held in Moscow in September 2016. It was devoted to the subject: "Common Information Model (CIM) based on IEC standards".
The meeting was attended by the delegates of state authorities and national energy companies of Kazakhstan, Tajikistan, the Russian Federation, as well as the members of CIS EPC Executive Committee.
Sergey Silkov, the head of Monitor Electric Moscow branch delivered a report on "Possible approaches and the actual practice of testing applications for compatibility with CIM standards". The report highlighted Monitor Electric experience in power system information model design in appliance with IEC 61970, 61968 standards and tackled the issue of model data exchange between software systems by different manufacturers. The attendees' interest was highly attracted by the report about the experience of testing the compatibility of Monitor Electric CK-11 software package with IEC recommended reference Symphony Orchestra pack.
The meeting participants noted the importance of IEC standards application in automation of power systems management in order to improve their reliability and efficiency.