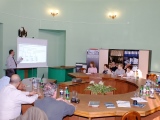 The scheduled information seminar organized by Electric Power Council of the Commonwealth of Independent States (CIS EPC) took place in Yerevan (Armenia) on April 7–8, 2016 at the premises of Electric Power System Operator JSC.
Among the attendees were the representatives of Electric Power System Operator JSC (Armenia), the CIS EPC Executive Committee, Energoset Project Institute, Monitor Electric (Russia) and Alstom (Scotland).
Monitor Electric presented the following reports: "Example of modern SCADA for power system control centers designed in compliance with CIM standards", "Methodology of data engineering and distributed model actualization in the hierarchized power system".
The participants of the seminar highlighted the importance of CIM-oriented software development for power utilities in different countries and showed great interest in further cooperation.