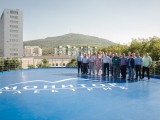 Information seminar organized by the Executive Committee of Electric Power Council of the Commonwealth of Independent States (EPC of the CIS) took place at Monitor Electric head office (Pyatigorsk) on September 3–4, 2015. The seminar was devoted to the following subject: "Common informational model ­(CIM) based on IEC standards".
The seminar brought together the delegates of the major energy companies of Armenia, Belarus, Kazakhstan, Kyrgyz Republic and Russia. It was attended by representatives of the Executive Committee of the CIS Electric Power Council, as well as by experts from WG 13, 14 working groups of IEC Technical Committee 57 (TC 57).
Monitor Electric specialists reported on their experience of implementing IEC standards to create comprehensive power system management solutions on CIM platform.
The participants of the seminar highlighted the importance of using CIM technologies and IEC standards to improve reliability and performance of CIS member states power systems.